National Summit for Educational Equity
Pathways to an Equitable Workforce
Preconference Workshop Sessions
Monday, April 25, 2022
Workshop Prices- $75 member/$125 non-member
Participant Cap: 100 participants/session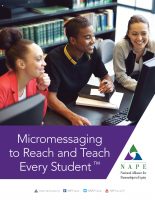 Micromessaging to Reach and Teach Every Student™ – 11:00 AM – 1:00 PM EDT
Cultural stereotypes exist about people and careers. Because of these stereotypes, we have implicit biases that manifest through micromessages. Bias and micromessages can accumulate to create barriers, but they can be diminished through thoughtful action. NAPE's flagship curriculum leads participants through a process of reflection, examination, and action planning.
Explore Nontraditional Careers – 11:00 AM – 1:00 PM EDT
Industry and government are calling for diversity in high-skill, high-wage, and in-demand CTE and STEM programs and pathways in order to grow the economy. Learn how NAPE's framework can assist teachers, faculty, administrators, counselors, and other staff in increasing the participation, persistence, and completion of students in nontraditional career preparation programs.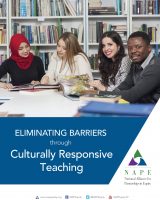 Eliminating Barriers through Culturally Responsive Teaching – 11:00 AM – 1:00 PM EDT
Research shows that when teaching is responsive to students' cultural norms, improved student outcomes are realized. This workshop will help you to identify and utilize teaching strategies that foster an equitable learning environment by validating and incorporating diverse cultural perspectives and knowledge into any classroom.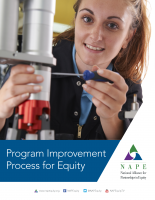 PIPE™ Overview – 11:00 AM – 1:00 PM EDT
The Program Improvement Process for Equity (PIPE™) focuses on institutional programs, practices, and policies to build an environment where every student can realize their potential in high-wage, high-skill, in-demand careers. This workshop will provide a high-level overview of the 5-step PIPE™process—Organize, Explore, Discover, Select, and Act—by offering practical yet rigorous methods and tools to guide state and local efforts to improve access, equity, and diversity in nontraditional occupations and STEM fields.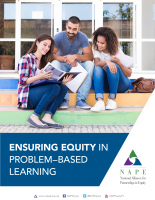 Ensuring Equity in Problem-Based Learning – 2:00 PM – 4:00 PM EDT

As PBL gains popularity in classrooms, it is important to clarify ways for the PBL to effectively reach and inspire every student. This workshop and toolkit provides an original framework and reflection tool designed to assist educators in creating, evaluating, and administering equitable and effective PBL lessons, specifically within STEM and CTE.
Inspiring Courage to Excel through Self-Efficacy – 2:00 PM – 4:00 PM EDT
Students who maintain a high degree of self-efficacy are more agreeable to trying new tasks and persisting when tackling difficult problems; and they exhibit greater interest, motivation, and engagement. Self-efficacy has a lot to do with a student's learning and choice of courses and careers. This workshop will help educators and counselors learn key tenets of self-efficacy, as well as research-based strategies that can increase their students' self-efficacy, positively affecting academic achievement, advancement, and resilience.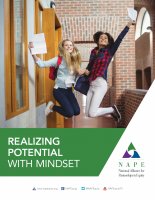 Realizing Potential with Mindset – 2:00 PM – 4:00 PM EDT
Using a growth-mindset approach in teaching can be effective in developing equitable learning environments that support every student. This workshop will assist educators in transforming their practice to foster a growth mindset in themselves, and in their students.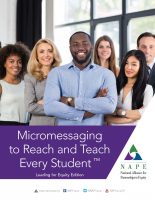 Leading for Equity – 2:00 PM – 4:00 PM EDT
Educators want their students to succeed, and while school mission statements show commitments to equity, gaps persist. Leading for Equity addresses the critical ways in which an equity perspective reveals systemic changes necessary for student success. This session will focus on how to bring equity to the forefront of leaders' work as we begin to: understand how unconscious bias is embedded in our educational systems.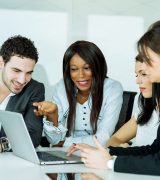 The Equity Leadership Institute – 2:00 PM – 5:00 PM EDT
The Equity Leadership Institute will equip leaders, at all levels, with tools for personal inquiry and growth that can then translate into shifts in organizational and community culture, team development, policies and procedures, and best practices to lead with equity at the center.