National Summit for Educational Equity
Capital Hilton, Washington, DC
Preconference Workshop Sessions
Monday, April 17, 2023
Workshops – $170 (Participant Cap: 50 participants/session)
Equity Leadership Institute – $335
Site Visit – $335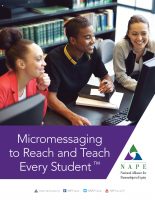 Micromessaging to Reach and Teach Every Student™ – 1:30 – 3:00 PM EDT
Cultural stereotypes exist about people and careers. Because of these stereotypes, we have implicit biases that manifest through micromessages. Bias and micromessages can accumulate to create barriers, but they can be diminished through thoughtful action. NAPE's flagship curriculum leads participants through a process of reflection, examination, and action planning.
Explore Nontraditional Careers – 1:30 – 3:00 PM EDT
Industry and government are calling for diversity in high-skill, high-wage, and in-demand CTE and STEM programs and pathways in order to grow the economy. Learn how NAPE's framework can assist teachers, faculty, administrators, counselors, and other staff in increasing the participation, persistence, and completion of students in nontraditional career preparation programs.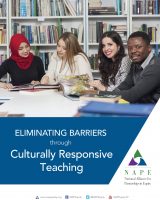 Eliminating Barriers through Culturally Responsive Teaching – 1:30 – 3:00 PM EDT
Research shows that when teaching is responsive to students' cultural norms, improved student outcomes are realized. This workshop will help you to identify and utilize teaching strategies that foster an equitable learning environment by validating and incorporating diverse cultural perspectives and knowledge into any classroom.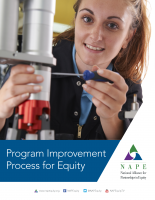 Equity in PERKINS V – 1:30 – 3:00 PM EDT
The Equity in Perkins V interactive session will equip participants with the tools and mental framework needed to conduct the Comprehensive Local Needs Assessment with an equity focus. This work will be framed in the context of the Local Needs Assessment procedure, as required in the Perkins Act, through the context of NAPE's Program Improvement Process for Equity (PIPE). Developed by NAPE, PIPE™ is a data-driven institutional change model used to assist state and local education agencies to improve their performance on the accountability measures defined in the Perkins Act.
Equity Leadership Institute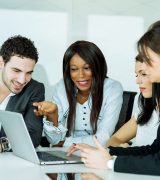 The Equity Leadership Institute – 1:00 PM – 5:00 PM EDT
The Equity Leadership Institute will equip leaders, at all levels, with tools for personal inquiry and growth that can then translate into shifts in organizational and community culture, team development, policies and procedures, and best practices to lead with equity at the center. This session will focus on increasing your understanding of the Conscious Anti-Racist Engendering (CARE) Framework from the authors of Humanity Over Comfort: How You Confront Systemic Racism Head On (2021). Utilizing NAPE's latest materials from its newly updated Micromessaging to Facilitate Equitable Learning Environments™ curriculum, participants will engage with peers in courageous conversations about how to become a more critically conscious educator and how to use the CARE Framework in their educational equity efforts.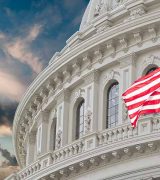 Site Visit – 11:00 – 3:00 PM EDT
The site visit will tour exemplars of career-based learning across the DC Metropolitan area. Participants will see the facilities that house these programs and learn from the leaders who make these programs happen. The site visit will take place from 11:00 am – 3:00 pm and include transportation and a boxed lunch. Timing is subject to change based on sites.