National Summit for Educational Equity
"Pathways to an Equitable Workforce"
NAPE and the NAPE Education Foundation have a shared vision that every student is able to fulfill their potential through equal access to and equity in educational options that lead to the entire spectrum of career choices.
Our mission is to build the capacity of those in education to implement effective solutions to increase student access, educational equity, and ultimately workforce diversity. The annual NAPE Equity Champions Awards are given to individuals in education and work who embody a commitment to equity, inclusion, and diversity.

Equity is a principle that ensures that every student has what they need to succeed in education. This is in contrast to equality as a principle, where everyone gets the same thing. A commitment to equity is a commitment to addressing individual, institutional and systems level barriers to access and success for students from different social groups and contexts.
Inclusion is the commitment in education and work that every individual has unique assets, skills, and perspectives that should be valued. Inclusion recognizes the need for differentiation in order to maximize the learning of individuals in education and work. It also recognizes that environments ought not expect individuals to conform only to certain ways of being, and sees the value of fostering environments in which individuals can be their whole and best selves.
Diversity is a principle that values the richness of our community to solve the education and work challenges of today and tomorrow. A commitment to diversity is a recognition that having a wide array of perspectives, identities, cultural lenses, and lived experiences brings great value to any given situation.
See below for each of the Award categories for this year. All recipients will be recognized at the Annual National Summit for Educational Equity at the upcoming Summit.
Innovation through Challenge
Purpose:  To recognize creative, innovative, and/or collaborative leadership in developing systems, structures, programs, and supports to ensure equitable access to high-quality education through a period of challenge (e.g., in the context of COVID-19 in the spring of 2020 and/or the 2020-2021 academic year).
Diversity in Technology Leadership
Purpose: To recognize a leader in an organization who is a role model to the national community of excellence in technology and/or STEM. This person demonstrates:
the commitment to valuing diversity, equity, and inclusion in education and in their community;
the ability to strengthen and broaden business solutions, and the vision to expand knowledge about diversity, equity, and inclusion in their community;
the ability to build and sustain innovation and entrepreneurship;
the motivation to build meaningful partnerships with community groups and organizations who have a significant impact on diversity, equity, and inclusion in their communities.
Purpose: To honor a person who has managed major projects or programs, works in the trenches daily, and has made a major impact by ensuring diversity, equity and inclusion in education leading to high-wage, high-skill, in-demand careers and programs of study.
Purpose:  Education team that was successful in promoting diversity, equity, and inclusion in career and technical education (CTE) or STEM.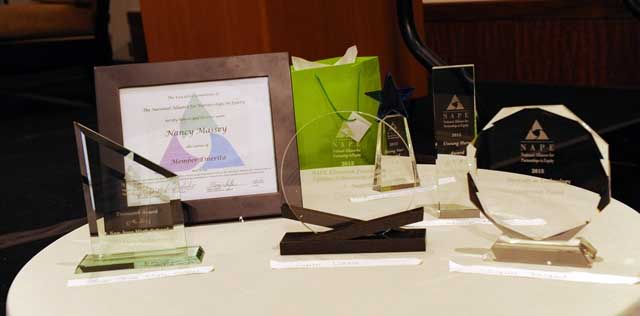 NAPE and the NAPE Education Foundation honor the award winners each year at the National Summit for Educational Equity.