National Summit for Educational Equity
April 17-20, 2023 | Capital Hilton, Washington DC
Preconference Fees
Workshops – $170

Leadership Institute – $335
Site Visit – $335
*Preconference workshops and events require pre-registration.
10:00 – 10:30 AM EDT – Site Visit Prep

11:00 – 3:00 PM EDT – Site Visit
1:00 – 5:00 PM EDT EQUITY LEADERSHIP INSTITUTE
1:30 AM – 3:00 PM EDT WORKSHOPS

Micromessaging to Reach and Teach Every Student
Explore Nontraditional Careers
Eliminating Barriers through Culturally Responsive Teaching
Equity In Perkins V

4:00 – 6:00 PM EDT Site Visit Debrief
8:00 – 9:00 AM EDT – Continental Breakfast
9:00 – 10:00 AM EDT – Welcome & Opening Keynote
10:00 – 12:00 PM EDT – Workshops
12:00 – 1:45 PM EDT – Luncheon: Youth Keynote & Student Panel
2:00 – 4:15 PM EDT – Workshops
5:00 – 8:00 PM EDT – Cultural Exploration (dinners/experiences not included with registration)
Wednesday, April 19, 2023
8:00 AM EDT – Grab and Go Breakfast

(Capitol Hill attendees only)

10:00 – 12:00 PM EDT – Public Policy Awards and Legislative Speakers
1:00 – 4:00 PM EDT – Capitol Hill Visits
8:00 – 9:00 AM EDT – Continental Breakfast
8:15 – 11:30 AM EDT – Affirmation Roundtable
9:00 – 11:00 AM EDT – NAPE Membership Meeting
9:00 – 11:00 AM EDT – Workshops
11:15 – 12:45 PM EDT – Luncheon: Closing Keynote
*Agenda is subject to change.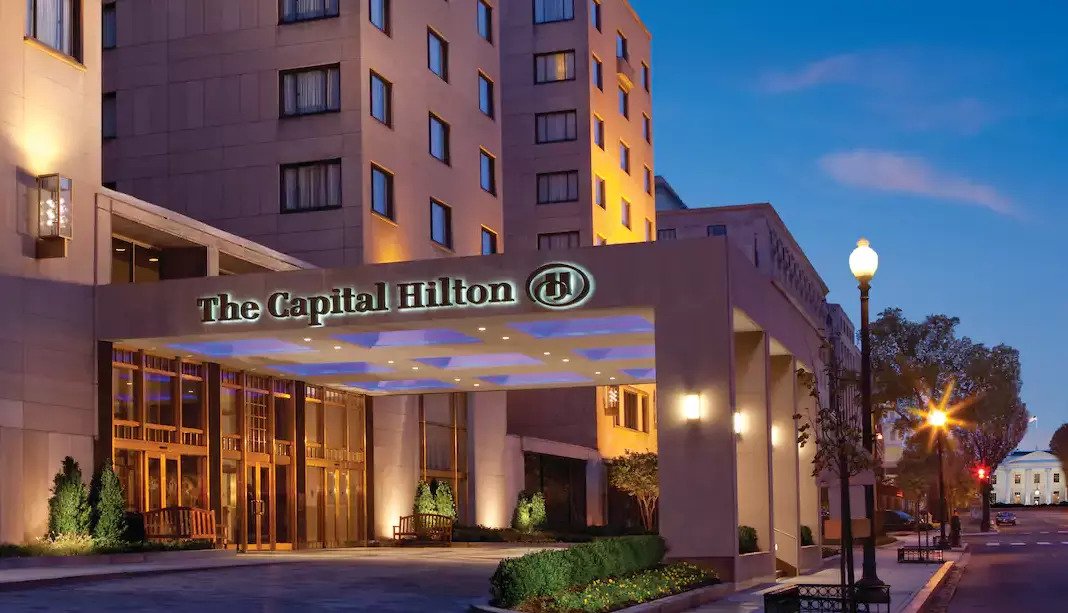 Capital Hilton
1001 16th St NW
Washington, DC 20036
There is a group block of rooms at the Capital Hilton.
Please visit the website to make your room reservation or you can call the hotel directly at 1.800.445.8667. To guarantee this special group rate of $274 per night, you must make your reservation no later March 17th. Please identify yourself as a NAPE attendee.
Reservations may be cancelled 72 hours prior to check in, otherwise there will be a cancellation fee equal to one night's room rate plus applicable taxes.
Why Book in our room block at the Capital Hilton?
Booking your reservation outside of the hotel room block via Internet travel sites or "shopping" for lower rates at nearby hotels has a long-term negative impact on the NAPE Summit.  Hotels place financial penalties on organizations for each room not used within their negotiated block of rooms thus making it harder for us to negotiate lower rates for our attendees in the future, which we are committed to doing. By filling the block of reduced rate rooms that we have negotiated, we are able to meet our contractual hotel obligations to avoid any financial penalties to the organization and we are able to use this history as a strong negotiation tool to keep our rates for attendees low year after year.
We appreciate your support of NAPE by booking hotel rooms within our official block.
Seeking approval to attend the 2023 NAPE Summit? 
NAPE President Michael Tinsley and President Elect, Joe Green share their personal stories and reflections on their Summit experiences and the value of the rich connections they have made.